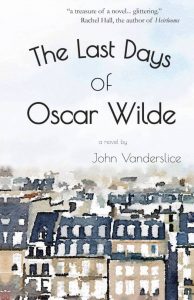 The Last Days of Oscar Wilde
About The Last Days of Oscar Wilde
Paperback: 350 pages
Publisher: Burlesque Press, LLC (January 15, 2018)
How is it possible that the genius author of such 19th century classics as The Picture of Dorian Gray and The Importance of Being Earnest died destitute in Paris at the age of 46? In John Vanderslice's vivid and heartbreaking novel, we meet Oscar Wilde after a two year incarceration in an English prison for gross indecency. Once free, his reputation and finances in ruins, he leaves England for Paris where, frequently inebriated, he stays in shabby hotel rooms paid for by his few, remaining friends. In Vanderslice's deftly-imagined portrayal, Wilde's idiosyncratic and affecting greatness is revealed. Through his thoughts and interactions, we experience the heart and mind of a literary giant brought down by the 'morals' of his time. For a while, Wilde manages to maintain his legendary sense of humor and joie de vivre, a superstitious religiosity, and the dogged pursuit of beautiful young men. Sadly, the formerly prolific author and raconteur no longer has the desire to write. Instead, he distantly observes the world and is ultimately felled by serious illness. It is at his funeral that his artistic reputation begins its slow rehabilitation as friends and a small devoted public flock to the church to honor the artist, who spoke openly about homosexuality, the hypocrisy of Victorian values, and the importance of art for art's sake.
My review
This book attracted me for two reasons, firstly I rather like fiction books that are based on real lives and events, and secondly it struck me I didn't know enough about Oscar Wilde. I have read some of his work and I can claim that we both spent time living in Reading, although as his stay was in prison it was rather different to my time there, and we both made France our home. This book calls on John Vanderslice's love for Wilde's work as well as vast amounts of reading over many years, which enabled him to put together a picture of what Oscar's life was like when he moved to Paris, following his release from prison.
Homeless, penniless and unpopular in the English-speaking world, Wilde relied on a few loyal friends to keep his spirits up, put food on his table and champagne in his glass. It seemed such a sad and lonely existence for someone who had previously been 'the one' to invite to a dinner party in London, I couldn't help but feel sorry for him. I found the strained meetings with Bosie, his former lover whose father had brought the court case against Wilde, especially sad, and felt hurt and upset for Wilde at the way he was treated by those who he had given so much to.
He still had friends who would have loved him to start writing again and many did their best to encourage him, including fully funded excursions to the south of France and Rome, all in the hope that time away from his daily gloom in Paris would do him good, but it was evident his heart was no longer in it. Despite a few romantic liaisons, there were to be no happy endings for Wilde in Paris.
It was the end of the book, Wilde's last days, when thankfully he wasn't alone, that I found the most moving. A change in the writing style beautifully portrayed his lapsing in and out of consciousness and was very emotive.
I certainly learned a lot about the last years of Oscar Wilde as well as the beliefs and culture of the era and felt John had done a great job of portraying Wilde. I'm sure this book will appeal to those with an interest in Wilde, who was an extraordinary man.

Purchase Links
About John Vanderslice
John Vanderslice is the author of Island Fog (Lavender Ink), a collection of ten stories and two novellas set on Nantucket Island, named by Library Journal as one of the Top 15 Indie Fiction titles of 2014. A native of the Washington DC area, John has an MFA from George Mason University and a PhD from the University of Louisiana-Lafayette (ULL). After graduating from ULL in 1997, he began teaching at the University of Central Arkansas (UCA), where he is a much loved professor of writing. His fiction has been published in many leading journals, as well as several anthologies, including Chick for a Day and The Best of The First Line.
Praise "With elegant prose and a glittering wit of which Wilde himself would approve, John Vanderslice brings to life this 'agent provocateur's' final act. Masterfully merges insight and imagination with the historical and literary record to provide a portrait that is rich and nuanced and utterly compelling." Rachel Hall, author of Heirlooms. "John Vanderslice lays bare the consequences of Wilde's betrayal by those whom he loved and trusted. The Last Days of Oscar Wilde is a grim reminder of the destructive power of senseless persecution." Jennifer Steil, author of The Woman Who Fell From the Sky. "A quiet, tender portrait of a literary giant." Kirkus Reviews